Organics: April Organic Market Update

Posted April 29, 2020 by Dani Kusner
In the span of a few short weeks (or months if you've been following it longer internationally), COVID-19 has dramatically changed life around the world. It is dominating everything: the news, the economy, politics, and now, our daily lives and culture. As always, The Andersons is committed to our employees' and customers' safety and well-being. We hope you're continuing to follow best practices for keeping yourself and your family healthy during this time.
This month's organic update shares some resources for gaining perspective on how organic farmers may be affected in the long term by COVID-19. As you prepare for spring and try to determine long term strategies, I've outlined some things to think about and links to additional resources for exploration.
First, you may have several questions about organic pricing trends. Will organic pricing shift due to international trade issues? If organic imports are reduced, perhaps domestic organic corn prices will increase? In other opportunities, if COVID-19 ends up not having a significant impact on organic prices and they stay flat, might this be another reason to consider more diverse rotations for different value-add markets? If you have any of these questions, Mercaris is hosting a webinar titled Special Report: 2020 COVID-19, U.S. Organic Commodity Market & Risks Outlook, scheduled for April 15 at 12 pm Eastern Time, where you may gain some insight. Note you need to preregister, so if you are interested, be sure to register here to be able to log into the zoom call:
https://zoom.us/webinar/register/WN_tNo59BRATyihKkvn1eswZg
Next, if you're looking for a network to share ideas and gain support around organics as all face-to-face events have come to a halt, you may consider researching what online opportunities exist. OGRAIN (The Organic Grain Resource and Information Network) based out of the University of Wisconsin, in conjunction with Purdue University and The Andersons, is hosting zoom calls on Fridays until further notice. To join these calls, sign up for the OGRAIN listserv by emailing join-ograin@lists.wisc.edu.
There is no question that for the productivity and resiliency of our crops (and human health!), we need to be increasing biology in our soils and farms. Diversity of biology in the soil can ward off pests and disease and increase cycling of mineral nutrition, making more use of the fertilizer dollars you are already spending! See this recent research published by the University of Illinois, proving cover crops' positive impact on soil biology.
As COVID-19 teaches us that our societies are more interconnected and co-dependent than we may have previously imagined, one hope regarding our food supply is that we might use this time as a reset button to begin to understand how human health starts with soil health. Humans are swimming in biology all the time, as wonderfully demonstrated in this short video, and one of the foundations of the human microbiome is the food we consume daily, which is directly influenced by the growing conditions and soils where it was raised. As organic and biologically-minded regenerative farmers, you are contributing to a robust and resilient food supply. Thank you for your continued ESSENTIAL work!
In conclusion, while The Andersons does not have the magic ball for how COVID-19 will impact organic production this growing season, we want you to know that we are still open and available to support you with organic fertilizers and other strategies for increasing diversity and health on your farm. Our best to you this April as field work begins! Please contact us at png@andersonsinc.com with any questions.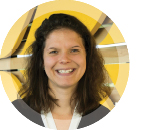 Dani Kusner has worked in biological and organic farming systems since graduating from the University of Dayton with a Bachelor of Science in sustainability studies. She worked at the Rodale Institute and consulted with growers in both Canada and the United States. Dani worked for The Andersons from 2016-2021 and is still an active advocate and resource for organic growers.