October Organics Update: Change is in the Air

Posted October 12, 2020 by Dani Kusner
As we transition seasons and harvest is upon us, I want to take the opportunity to share some of my travels from the last few weeks. This was my first time on the road for longer than a daytrip since COVID-19 created limitations in our normal travel activities. I decided to take full advantage of the opportunity to see a large majority of our nation's cherished agricultural landscape, getting as far west as Burlington, Colorado, and visiting with farmers in Missouri, Kansas, Iowa, Nebraska and Wisconsin along the way.
The highlight of the trip was experiencing organic wheat planting in far western Kansas and eastern Colorado. Compared to organic farming in the Midwest, the climate, soil structure and available crop rotations in the more arid western wheat belt present unique, distinct challenges to organic production. I imagine that if most Eastern Corn Belt farmers walked in the shoes of a wheat farmer, he/she would come away with newfound appreciation for the "fat and black" soils of their own region, along with more gratitude for where bread and cereals come from, particularly if one eats organic wheat products. I know I did! I walked away amazed at the tenacity of this organic wheat farmer and humbled by his commitment to organics. He is having success experimenting with utilizing The Andersons Black Gypsum® DG and Humic DG™ at wheat planting in his air seeder.
Caption: Organic wheat planting in eastern Colorado, September 2020.
A second highlight was visiting our organic research plot in Whitewater, Wisconsin. It will be a pleasure to share the results from these trials in a few months when the data comes in after harvest. As a preview, we implemented two new trial designs this year: one focusing on nitrogen sidedress solutions and the other addressing organic starter applications. Initial observations from the researcher are that in treatments where a carbon source was added – in our case, Humic DG or Fulvic LQ™ – the crop looked healthier throughout the season. Time will tell if these observations equate to final yield differences!
Caption: The Andersons organic corn plots in Whitewater, Wisconsin, September 2020.
Finally, be watching in a few weeks for our announcement of our organic expansion capacity at Waterloo, Indiana. For customers who have been asking about our potash availability, we will have more answers for you at this time, along with a few surprises. Be on the look-out for a separate press release announcement toward the end of this month. As always, we appreciate your interest in The Andersons organic program, and we look forward to serving you soon! If you have questions, please reach me at dani_kusner@andersonsinc.com or 419-891-2785.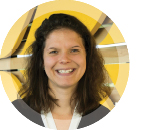 Dani Kusner has worked in biological and organic farming systems for the past 10 years since graduating from the University of Dayton with a Bachelor of Science in sustainability studies. She has worked at the Rodale Institute, and in Ontario, consulting with growers in both Canada and the United States. Dani joined The Andersons in 2016 and currently serves as an organic agronomy advisor, partnering with farmers as they transition to organic.
©2020 The Andersons, Inc. All rights reserved.