January Organics Update: 2021 - We Can All Do Better

Posted January 12, 2021 by Dani Kusner
We made it through 2020 and can give ourselves a huge pat on the back. Going into 2021, I have a new theme: "We Can Do Better". Let me explain.
I had many moments of reflection the last few weeks, several of which were dives into how agriculture performed this year, considering the pandemic, and how farming and the food it grows are connected to every facet of our lives. For instance, if you are a farmer, you affect human health because consumers eat what you produce. In the case of organic farming, it may be the actual product like edible beans or popcorn, or it may be further down the food chain as organic poultry and dairy by-products.
In addition to food and health, farmers are, in some ways, caretakers of the environment. Farmers' choices can positively impact resource availability for future generations. Agriculture is intrinsically connected to nature through practices that influence soil, air, water and life itself, including the insects and microbiology that sustain this planet.
It is in this light that I begin to view farming as a sacred vocation that cares for the resources – soil, water, air and biology –that grow food and sustain all life and health on earth, especially for humans. As specific resources are depleting, it is our existence as a species that is more at risk than ever before. For example, at the current rate of production agriculture, it is estimated there are only 70 harvests' worth of soil left. This should be of grave concern to all of us in agriculture.
This is where "we can do better" comes in. Now is the time to re-lace our bootstraps and dig in deep, as there is more work to do and we can all do better. So, what will you be doing differently this year in organic farming? If you want to discuss organic ideas or how we can work together to grow our impact in organics, please reach out to us at png@andersonsinc.com. The Andersons will be making several organic fertilizer announcements in the coming months, starting in February. In the meantime, take this time to reflect on 2020, the gratitude for all we have that got us through a difficult year, and renew your inspiration and purpose for why you do what you do.
We can all do better in 2021. If not for yourself personally, challenge yourself to do better for the well-being of someone you love: your family, community, and future generations on planet Earth. Happy New Year from The Andersons Organics!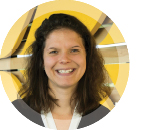 Dani Kusner has worked in biological and organic farming systems since graduating from the University of Dayton with a Bachelor of Science in sustainability studies. She worked at the Rodale Institute and consulted with growers in both Canada and the United States. Dani worked for The Andersons from 2016-2021 and is still an active advocate and resource for organic growers.

©2021 The Andersons, Inc. All rights reserved.